Learning to embrace yourself wholeheartedly and unconditionally opens you up for deep love and acceptance

Discover our luxury scented candles and the power of I AM affirmations.
A physical reminder to support your self care rituals and support you to-
Feel free to be you
Honour your worth
Wake up each day to your desired life - the one that you've created.
CHANGE YOUR WORDS, CHANGE YOUR WORLD
Imagine....
You are in your power
You are being who you came here to be
And from this place you are creating all you desire
"Loving up" all we are gives us the freedom to be ourselves. We release ourselves from the shackles of self doubt and self judgement and it is replaced with self acceptance and self belief
A loving inner voice is the one you start hearing the loudest and this is the voice that leads you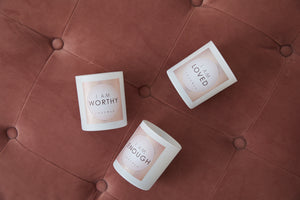 With this new deeper level of self love, connection and trust you can begin to rewrite your story - you have the power to create anything and everything
Are you ready to believe in you?
Are you ready to change the narrative?
Let's begin with these simple words:
Anchor in a kinder inner voice
Beautiful reminders designed to inspire daily affirmation rituals, and support your journey into freedom
Free to be you
A daily positive affirmation ritual is the simplest tool you can use to transform the quality of your life. It's the gift you can give yourself to see you through the ups and downs, and our products are designed to encourage you find a moment each day to focus on the self-love that you deserve.
#Discovery!! Thank you LOVE UP I was recently introduced to your candles; their sumptuous scents and self-love affirmations have become part of my daily self care ritual. Lighting my candle creates a sensuous sanctuary of fragrance, warmth and quiet.

A space to be still with myself, to reflect and practice, every day, to be kind to myself.

Mimi
The Love up Love you ethos could not be more poignant during these strange times .

It's a beautiful reminder of giving myself the love I deserve. Positive affirmations are so powerful and have really helped to quieten my busy mind focus on the moment. The candle scents are absolutely sublime and create the perfect fragrant setting for my Love Up moments

Ingrid
I am really grateful that Love Up came into my life. I have my 'I am enough' candle on my desk next to my laptop and it's helped me stay grounded and calm at really busy times.

The scent is gorgeous and it's lasting really well. Thank you for such a gorgeous candle.

Lauren